Genealogist Amy Johnson Crow, who blogs at No Story Too Small, has set a challenge to write about one ancestor each week. I've decided to take up that challenge to wake up my (somewhat) languishing blog, and to honor my ancestors. I plan to post every week on Sunday, and I encourage others to join the challenge with me.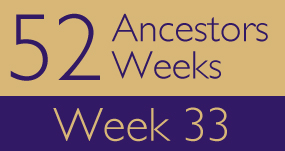 THEY ARE MY DESAPARECIDOS (THE "DISAPPEARED")
The Spanish word desaparecidos normally refers to forced disappearance—either by kidnapping or imprisonment. I doubt that my missing ancestors fall into that category, but I like saying desaparecidos. It rolls off the tongue so nicely!
I have spent hours online and many credits on www.scotlandspeople.gov in search of Robert Armstrong and his daughter Elizabeth, who lived in Ayrshire, Scotland. I just don't know what happened to them after 1864. They simply disappeared.
Robert Armstrong (born 1843 in Newton On Ayr, Ayrshire, Scotland) was the husband of Mary Ann Judge (born in Ireland in 1841). Mary Ann is my great-great aunt; my great-grandfather's sister. Although my great-grandfather emigrated from Scotland to America in 1880, several of his siblings remained in Scotland. Mary Ann was one of them. Earlier this year I decided to look for more information about her—who she married and whether or not they had any children. I always hope I can find a few distant cousins that I could meet in Scotland some day.
Yes, Mary Ann (also sometimes listed as Marianne) did marry. In 1863, she married Robert Armstrong in Cumnock, Ayrshire. They were both 20 years old, and it was the first marriage for both of them. One year later, Robert and Mary Ann had a daughter named Elizabeth.
A little less than 1 year after Elizabeth was born, Mary Ann died. It is likely that Elizabeth was Robert and Mary Ann's only child. I was most anxious to see what happened to them after 1864.
That's when they disappeared. With names like Robert and Elizabeth, we have the good and the bad: names that are not usually spelled in odd or alternate ways, but also names that are pretty common. The same for the surname of Armstrong.
I can't find them in the next census, which is 1871, when Elizabeth would be only 7. I can't find a death, or marriage for her in later years. I also can't find her father Robert in any census. Nor can I find a second marriage or death for him. At least not without spending many £ on ScotlandsPeople. Believe me, I already have a nice collection of Armstrong documents that aren't my ancestors. Get in touch with me if you have any from Ayrshire!
There are other possibilities, including the fact they may have emigrated. They could have gone anywhere, though. I will have to systematically look at records for England and beyond. It's a little daunting, but I really want to know what happened to my desaparecidos. Does this count for weeks #33 AND #34 since I wrote about two ancestors? 😉