Genealogist Amy Johnson Crow, who blogs at No Story Too Small, has set a challenge to write about one ancestor each week. I've decided to take up that challenge to not only hone my writing skills and wake up my (somewhat) languishing blog, but to honor my ancestors. I plan to post every week on Sunday, and I encourage others to join the challenge with me.
In week #2, I'd like to introduce the newest addition to my family tree – my great-great uncle E.M. (Ezra) Roberts (1817-1895) of Elmira, New York. He was a schoolmaster in Elmira for many years, and also ran a boys' boarding school. For the last several years I had a few clues that he might be a brother of my great-great grandfather, Henry S. Roberts (1812-1890). I kept meaning to send for his death certificate, but never got around to it until now.
I sent for a transcript of his death record from the Chemung County Health Department because I couldn't stand to wait for a certificate to come from the State in Albany. Sometimes it can take as long as 6 months! Getting a transcript from the county took about a week. It came in the mail yesterday and I did my little happy dance while opening it. You know about the happy dance, don't you?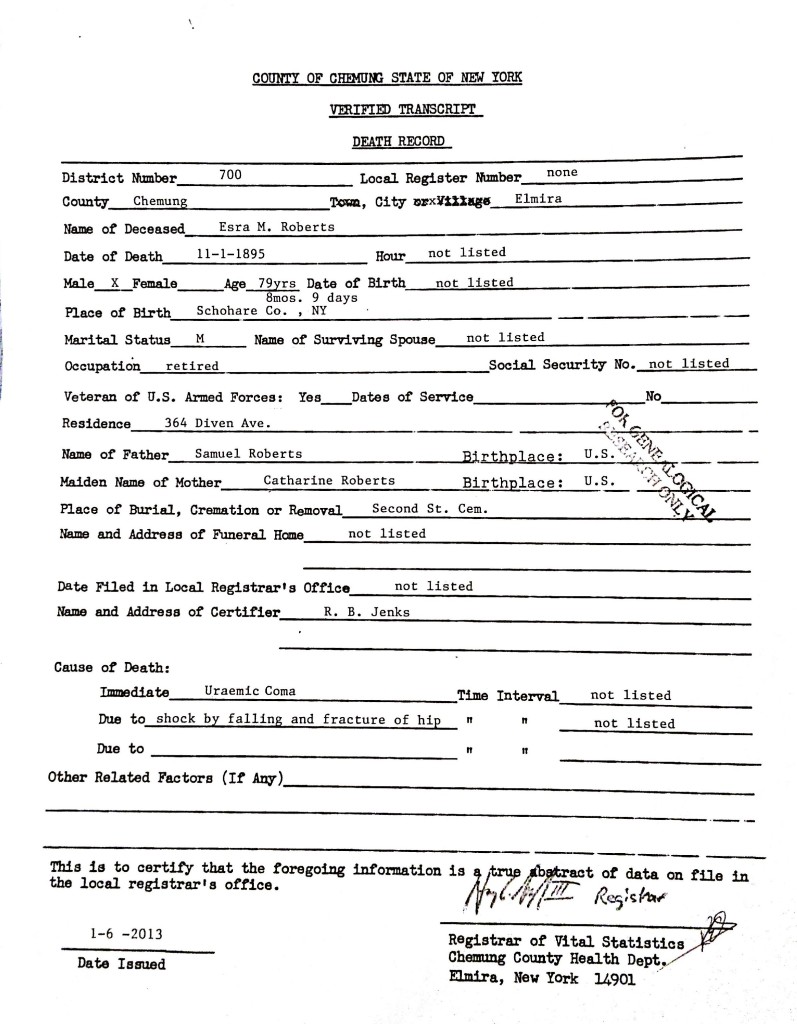 The transcript said that Ezra's father's name was Samuel, and that he was born in Schoharie County, New York. YES! This fits with his brother, Henry, and another brother, Henry's twin, James Roberts. Not only that, but now I also have confirmed his mother's name – Catherine. It had not been listed on either of the two brothers' certificates. Unfortunately, her maiden name was not given, but this gives me another tiny clue in the march back to the next previous generation, that of my great-great-great grandparents.
Two weeks ago, thanks to Google Books, I found a diary, The Journal of Ann McGrath, written by an orphan from Horseheads, New York, the town next to Elmira. In the diary, Ann mentions Ezra Roberts numerous times, and also refers to his mother Catherine's death. This mention was the first time I had a clue to Ezra's mother's name, which the certificate now confirms. Naturally I bought the book. I'm hoping there might be other family mentioned.
Every new piece of information answers a question and generates new ones. What's Ezra's mother's maiden name? Are there any more brothers – or sisters? What can I find out about the Roberts in Schoharie County? Even though I know that's where they lived before coming to Chemung County, I haven't found any record of them there. Yet.