Genealogist Amy Johnson Crow, who blogs at No Story Too Small, has set a challenge to write about one ancestor each week. I've decided to take up that challenge to wake up my (somewhat) languishing blog, but to honor my ancestors. I plan to post every week on Sunday, and I encourage others to join the challenge with me.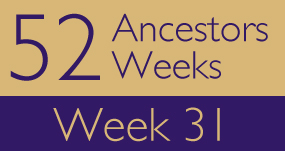 VEALE or VEALE, MY GREAT GREAT GRANDMOTHER FROM SOMERSET
My great-great grandmother, Eliza Veal, was born about 1847 in Stowey, Somerset, England. Stowey is a small village in the Chew Valley near the Mendip Hills. The BBC Domesday Reloaded site says that in the Domesday Book of 1086, the village was mentioned as having 1 villager, 1 smallholder, and 1 plough. One hundred years later, in 1986, the population was 80.
Eliza was born to William Veal, an agricultural labourer, and Ann Sage (sounds delicious, doesn't it – veal and sage?). They may have attended the church shown above, which has 6 bells in its tower.
She married my great-grandfather John Jones on the 20th of September, 1869 in Llanhilleth, Monmouthshire, Wales. I have yet to discover what brought her the 52 miles to Wales from Somerset, a few years before. Perhaps it was the death of her father in 1867. She apparently left her mother behind, who remained in Stowey until her death in 1891.
Their first child, Jemima Ann, was my great-grandmother. They had at least four more children while living in Aberystruth, Monmouthshire (cousin John – did I get it right?), but I lose track of Eliza after the 1881 census.
Her husband is in the 1891 and 1901 censuses as a widower, so Eliza must have passed away between 1881 and 1891, being no more than 45 years old. Having a common married name of Jones makes her death record hard to find.
Her last place of residence was in Abertillery in 1881. Her husband was a coal miner and all of her children were scholars. As with so many of my ancestors, I always wish I knew more about her.